Diese Website verwendet Cookies. Weitere Informationen finden Sie in unserer Datenschutzerklärung.
Liebe Pflanzenfreunde;

dear plant friends

(

please see the last paragraph)

.

Mein Name ist Reinhard Böttger und bin in Stollberg/Erzgebirge geboren. Bedingt durch meine Faszination fürs Skifahren und Bergwandern inspirierte mich die alpine Flora, sodaß ich bereits Mitte der 80er Jahre begann, diese Pflanzen auf einschlägigen Märkten im damaligen Ostdeutschland zu erwerben und bei mir am Nordrand des Erzgebirges auf ca. 440m NN im Garten zu kultivieren sowie zu fotografieren. Auf dieser Hompage stelle ich Ihnen meine Auswahl an Alpinen Pflanzen vor, welche ich in meiner Anlage kultiviere bzw. vermehre. Jedoch sind nicht von allen abgebildeten Arten und Sorten getopfte Exemplare vorhanden, weil diese sehr schwachwüchsig sind und sich entsprechend langsam vermehren lassen.



Mit "Spezialgebiet" "STENGELLOSE ENZIANE" und "MONOPODIAE" (Westchinesische Schmuckenziane) bin ich vor allem bei Letzterem ständig daran interessiert, seltene Arten bzw. nur exclusive Sorten mit nach Mög- lichkeit zwergigem Wuchs und ganz besonderer Zeichnung zu erhalten und zu kultivieren. Vor allem befinden sich außer den aufgelisteten Sorten wei- tere eigene Auslesen (einige sind bereits mit meinem Namenskürzel "RB" in der Liste

vertreten) in Vorbereitung, welche jedoch immer in puncto Farbe, Zeichnung – vor allem aber Wuchsverhalten (nach Möglichkeit zwergig!) – beobachtet werden müssen (siehe hierzu Hauptnavigationspunkt "MEINE PFLANZEN"; Link "ENZIANE" sowie dann der Split zu den 2 Seiten "HERBSTENZIANE").
| | |
| --- | --- |
| | |
| Gentiana acaulis 'Alba'/G. clusii 'Alboviolacea' | Eigene Züchtung: Gentiana Hybr. 'Mozart'RB |
...
Gesucht werden vor allem Wildarten der Gruppe "MONOPODIAE" (Gentiana arethusae, G. altorum, G. ampla, G. caelestis, G. futtereri, G. farreri, G. helophylla, G. hexaphylla, G. lawrencei, G. meiantha, G. oreodoxa, G. ob- conica, G. ornata, G. viatrix, G. tetraphylla, G. nyalamensis/G. nyalamen- sis var. parviflora, G. stipitata/G. stipitata ssp. tizuensis, G. yakushi- mensis (Japan) bzw. G. confertifolia mit ihren möglicherweise auftretenden 'Alba'-Formen – aber nur Pflanzen, deren Samen am Wildstandort gesam- melt bzw. anschließend vegetativ vermehrt wurden (keine hybridisierten Pflanzen – keine Nachsaaten hier geblühter Exemplare, da deren Echtheit nicht mehr gewährleistet ist.)

...

Gentiana hexaphylla

Gentiana obconica

Gentiana stipitata
...
Neben weiteren Gebirgspflanzen, mit denen ich mich befasse (siehe Seite "Gebirgspflanzen"), hab ich seit einigen Jahren ein "Faible" speziell für die Englischen Show-Aurikel entwickelt, die ich gern aufgrund ihrer exclusiven Farbenviel- falt als "Königinnen der Primeln" bezeichne (Navigationspunkt "PRIMELARTEN". Jene "Farbenphantasien", welche ich ebenfalls begonnen hab zu vermehren sowie eigene auszulesen, laden auf den entsprechenden Seiten zum Staunen, Träumen und Begeistern ein. Die kaum mit Worten zu beschreibende exclusive Farbenpracht der G'wänder am Wiener Opernball findet bei mir innerhalb meiner Show-Aurikel statt: Wiener Opernball in Stollberg - nur ohne Richard Lugner incl. seiner Stargäste und ohne Life-Übertragung in ORF 2 mit über einer Million Zusehern...

Gwen Parker - D

Shere - RSS

Star Flower - OSS
...
Weiters gibt es unter "SONSTIGES" vieles zu entdecken: Gartenansichten und deren Veränderungen, Arbeiten, Pflanzen auf Postwertzeichen, eigene in Österreich herausgegebene voll frankaturgültige Briefmarken - includiert in einen großen und relativ an Seiten umfangreichen Briefmarkenbereich, Hochwasserschäden, Preseberichte und einiges mehr. Müßig zu sagen, daß ich zumindest trotz der dafür eigentlich nicht vorhandenen Zeit versuche, vor allem die Pflanzenseiten ständig zu aktualisieren; Fotos "neuer" Pflanzen oder neue Aufnahmen von bereits vorhandenen Pflanzen als "Unterbilder" der jeweiligen Art/Sorte sichtbar zu machen oder "Neuanlagen" innerhalb der o.g. Bereiche mit Text und Bild zu "dokumentieren"...

Eigene Auslesen:'Charmeur'

'Gloryland'

'Wiener Austria'
In diesem Sinne! - Wobei ich glaub', doch das eine oder andere Zuckerl in den
Angebotslisten auf den jeweiligen Pflanzenseiten (Komplex 02: "MEINE PFLANZEN") unter den Fotos
für Liebhaber alpiner Pflanzen anbieten zu können; wie z.B. die gesuchten teils zwergigen "Gustostückerln" (alles Wildarten) auf den folgenden "Schlußfotos"... Please Enjoy!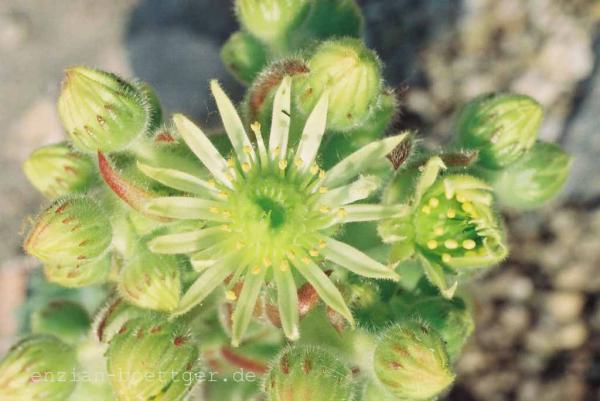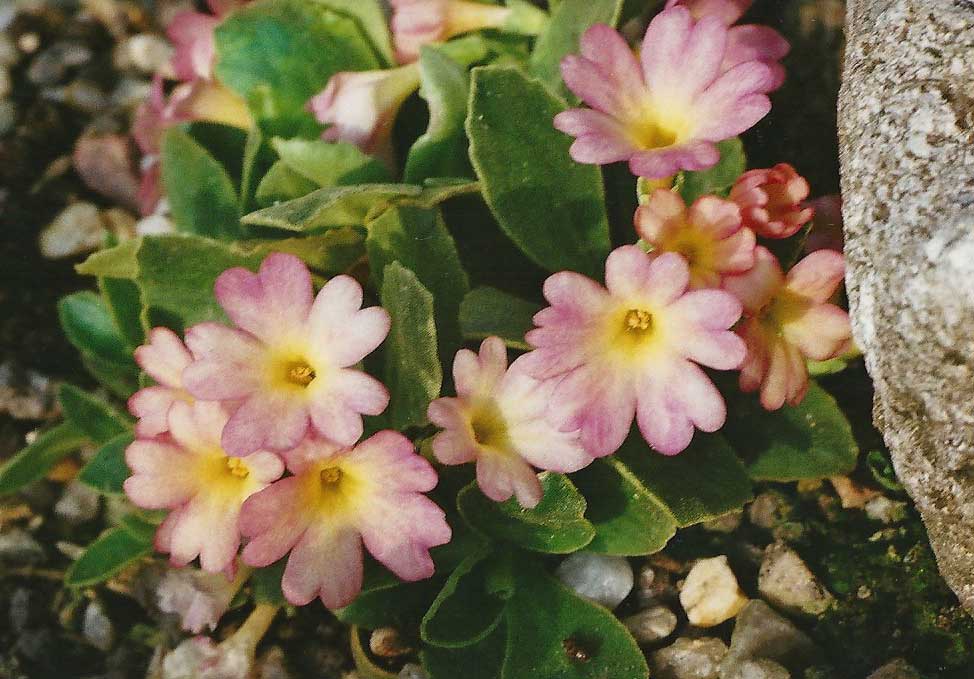 Sempervivum ciliosum - Primula allionii 'Hamswell Amber' - Potentilla pulvinaris
DEAR FRIENDS!
My name is Reinhard Boettger and was born in Stollberg/Erzgebirge. Due to my fascination for skiing and hiking inspired me the alpine flora, so I already mid-80s began to acquire these plants on relevant markets in the former East Germany and to cultivate with me on the northern edge of the Erzgebirge to approximately 440m NN in the garden and to photograph. On this homepage I present my selection of alpine plants, which I cultivate and multiply in my system. However potted specimens are not available from any of the illustrated species and varieties, because these are very slow- growing and can be multiplied correspondingly slow.
With "specialty" "STEM-LOSE GENTAIN" and "MONOPODIAE" (Western Chinese Jewelry - or "ornamental" Gentians) i'm always interested to get rare species and only exclusive rare varieties

with, as far as possible, dwarf growth

, where possible stature and special drawing and cultivate mainly in the latter.

Above all, apart from the listed varieties, there are further own readings

(some are already represented with my name abbreviation "RB" in the list) in preparation, which, however, always in terms of color, drawing - but especially growth habit (dwarf as far as possible!) - have to be observed (refer main navigation point "MY PLANTS"; link "Gentian" and then the split to the 2 pages "AUTUMN GENTAINS").
Particularly sought-after game species the group "MONOPODIAE" (Gentiana arethusae, G. altorum, G. ampla, G. caelestis, G. futtereri, G. farreri, G. helophylla, G. hexaphylla, G. lawrencei, G. meiantha, G. oreodoxa, G. conica, G. ornata, G. viatrix, G. tetraphylla, G. nyalamensis/G. nyalamensis var. parviflora, G. stipitata/G. stipitata ssp. tizuensis, G. yakushimensis (Japan) or G. confertifolia with their might occur 'Alba' forms - but only plants whose seeds melt whole the wild location and were then propagated vegetatively (not hybridized plants - no seedling here flowered specimens because their authenticity is no longer guaranteed.)
Also the 'Alba' wild forms, especially the species Gentiana alpina, G. clusii, G. dinarica (Group Stem Lose Gentians) are highly sought after.
In addition to other mountain plants, with whom I am working (see page "Mountain plants"), I have for some years a "soft spot" especially for the English Show Auricula developed that I would fold as "Queens of Primroses" because of their exclusive Color-diversity - call in navigation "Primroses". Multiply those "Color Fantasies", which I've also started and read your own, invite the relevant pages to marvel, dreams and inspiring. The little words to be described exclusive colors of the vestments Vienna Opera ball takes place at me in my Show-Auricula place: Vienna Opera-Ball in Stollberg - only without Richard Lugner incl his guest stars and no life - transmission in the Austrian TV by ORF 2 with more than one million viewers ... .
Furthermore, there is the "OTHERS" so much to discover: garden views and their changes, work, plant on postage stamps, own issued in Austria fully stamps valid for postage - includiert in a large and relatively extensive related to stamp area, flood damage, press reports and more. Needless to say that I, at least, despite the fact it does not exist time try to update especially the vegetable sides constantly; Photos of "new" plants or new recordings of existing plants as "sub-images " of each species/variety to visualize or "new systems" within the above-mentioned Areas with text and images to "document" ...
In this sense! - I believe, that You will find one or the other treat (all the plants, which are available), in the Offer lists on the respective plant sites (Complex 02 : "MY PLANTS" under the photos to offer for lovers of alpine plants; such as the sought rare plants in the previous Photos... You must always scroll to the end of the galery. Please Enjoy!