Einfach

nur schön! Ohne jetzt ein "Malven-Experte" zu sein, weiß ich, daß "Malve" nicht gleich "Malve" ist; daß es auch hier mehrere Gat- tungen (Malva, Alcea = Stockrose, Lavatera = Strauch- oder Bechermalve, Malope, Althaea = Eibisch) mit ihren jeweiligen Arten sowie viele entspre- chende Handelssorten - auch gefülltblühende - gibt.
Just beautiful! Without being a "mallow expert" now, I know that "mallow" is not "mallow"; (Malva, Alcea = Stockrose, Lavatera = shrub or Bechermalve, Malope, Althaea = Marshmallow) with their respective species as well as many corresponding commercial varieties - also filled-flowering.

Die meisten von ihnen sind zweijährig; es gibt mehrjährige - nur kurzlebig ausdauernde Pflanzen, wobei ihr Verbreitungsgebiet - je nach Gattung - entweder in Eurasien bzw. Nordafrika liegt - bzw. einige in Nordamerika oder Australien beheimatet sind.
Most of them are two-year-old; there are perennial - only short-lived perennial plants, depending on the species - either in Eurasia or North Africa - or some in North America or Australia.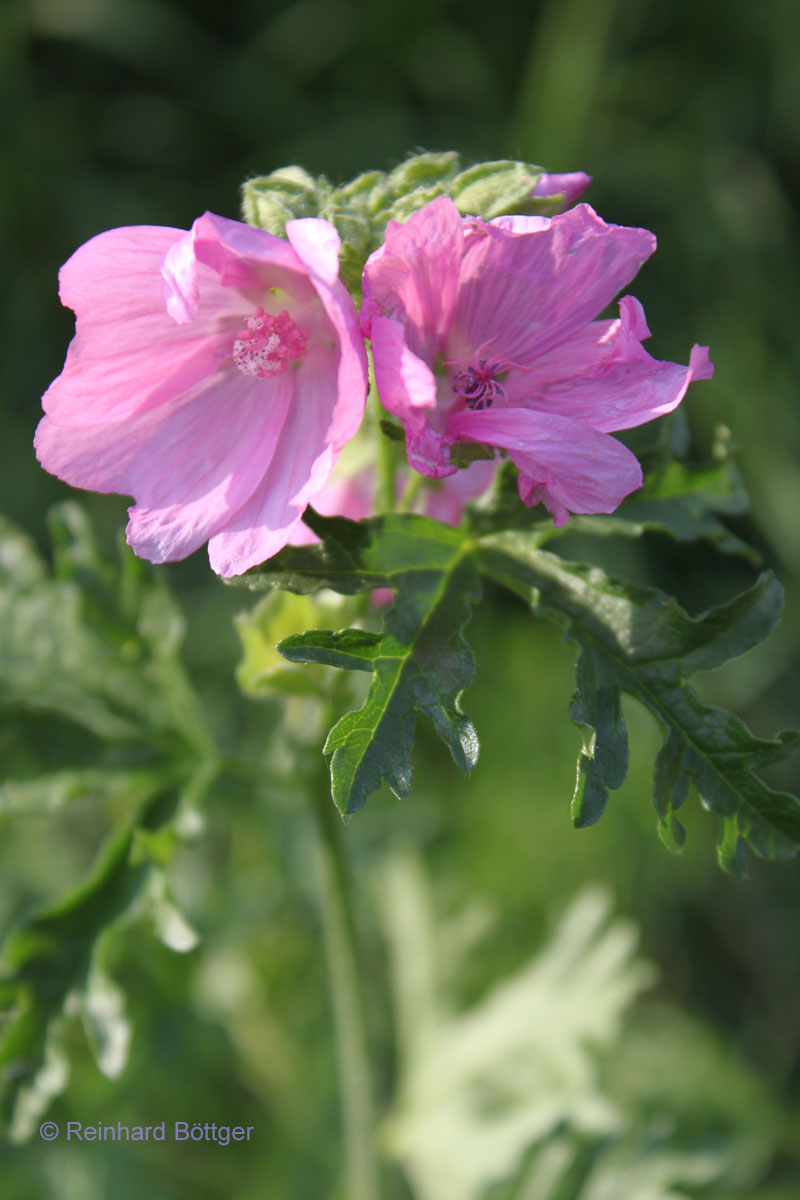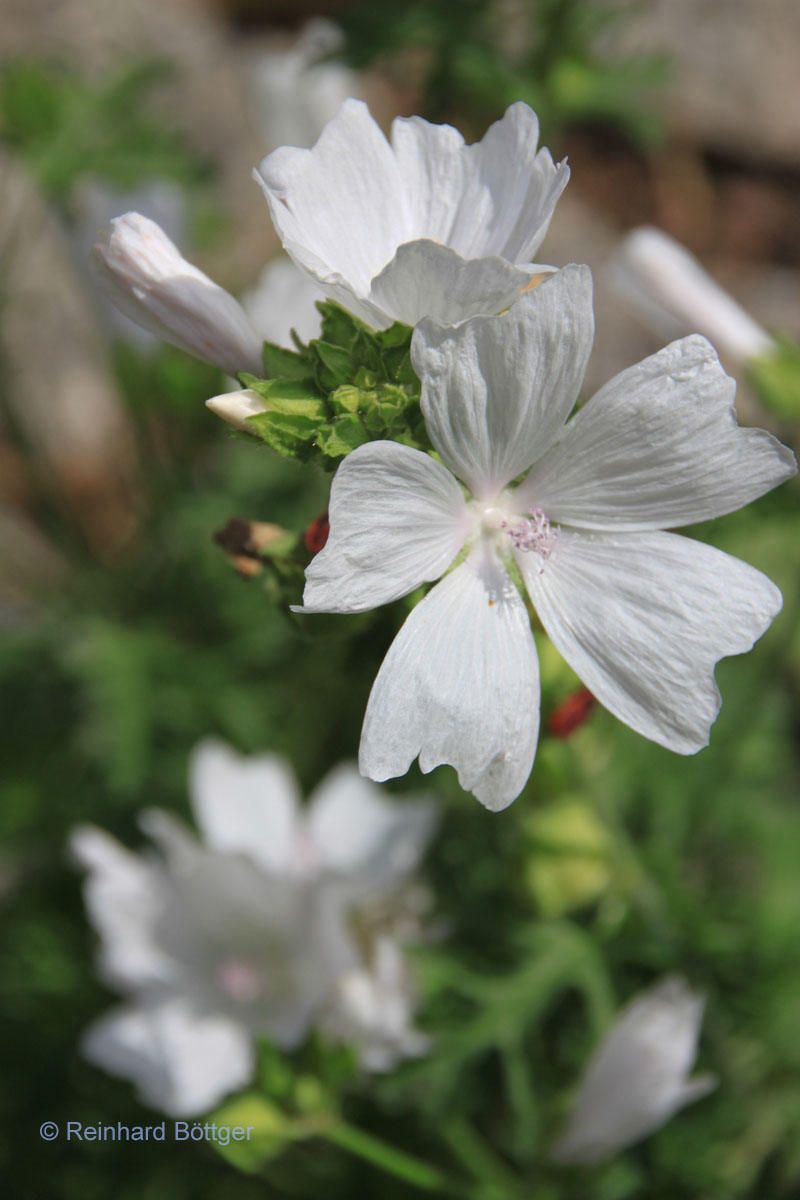 Malva moschata und ihre weiße Form Malva moschata 'Alba' am Wildstandort.
Malva moschata and its white form Malva moschata 'Alba' at the original location.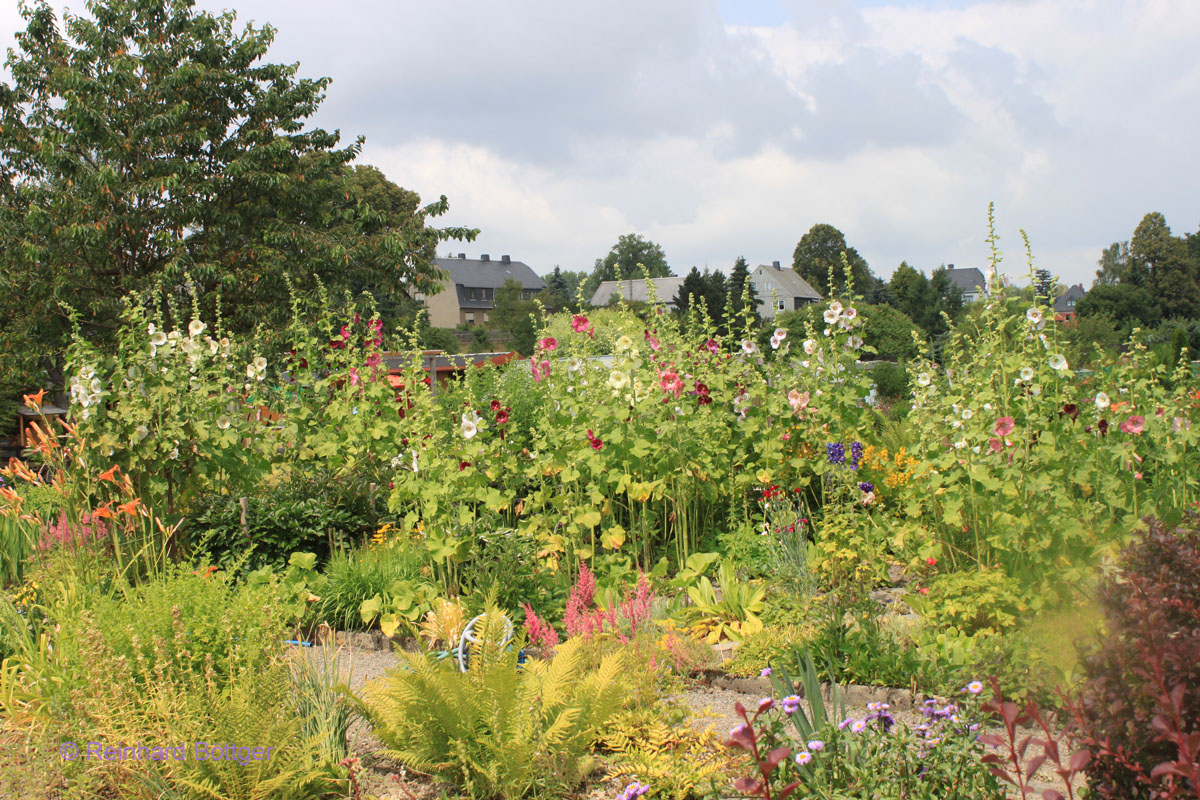 Als ziemlich anspruchslos geltend, bevorzugen sie möglichst kalkhaltige, durchlässige nährstoffreiche Böden in sonnig- bis halbschattiger Lage. Man kann, während die Pflanze von unten nach oben blüht, bereits unmittelbar nach der Blüte die Samenstände der unteren abgeblühten sofort aussäen, um im nächsten Jahr einen Flor zu erhalten. Bei jenen empfiehlt sich Ende Oktober ein Rückschnitt, um sie vielleicht einige Jahre erhalten zu können. - Winterschutz ist empfehlenswert.
As quite unpretentious, they prefer as calcareous, permeable nutrient-rich soils in a sunny to semi-shaded position. When the plant blooms from below to the top, immediately after flowering, the seeds of the lower effloresced plants are immediately sowed, in order to obtain a pile next year. For those, a retreat is recommended at the end of October, in order to be able to keep them for a few years. - Winter protection is recommended

.

Aussaat: auch hier bewahrheiten sich die Mendelschen Gesetze: wenn von einer "Gelben" ausgesät wird, blühen die Sämlinge in allen möglichen Farben - nur nicht in GELB. Wenn man aber DIESE Sämlinge wiederum aussät, erhält man zwar auch verschiedene Farben, ABER: es ist "GELB" DABEI!
Sowing: here also the Mendelian laws are true: when sown by a "Yellow", the seedlings bloom in all possible colors - only not in YELLOW. But if you sow THESE seedlings again, you also get different colors, BUT: it is "YELLOW" included!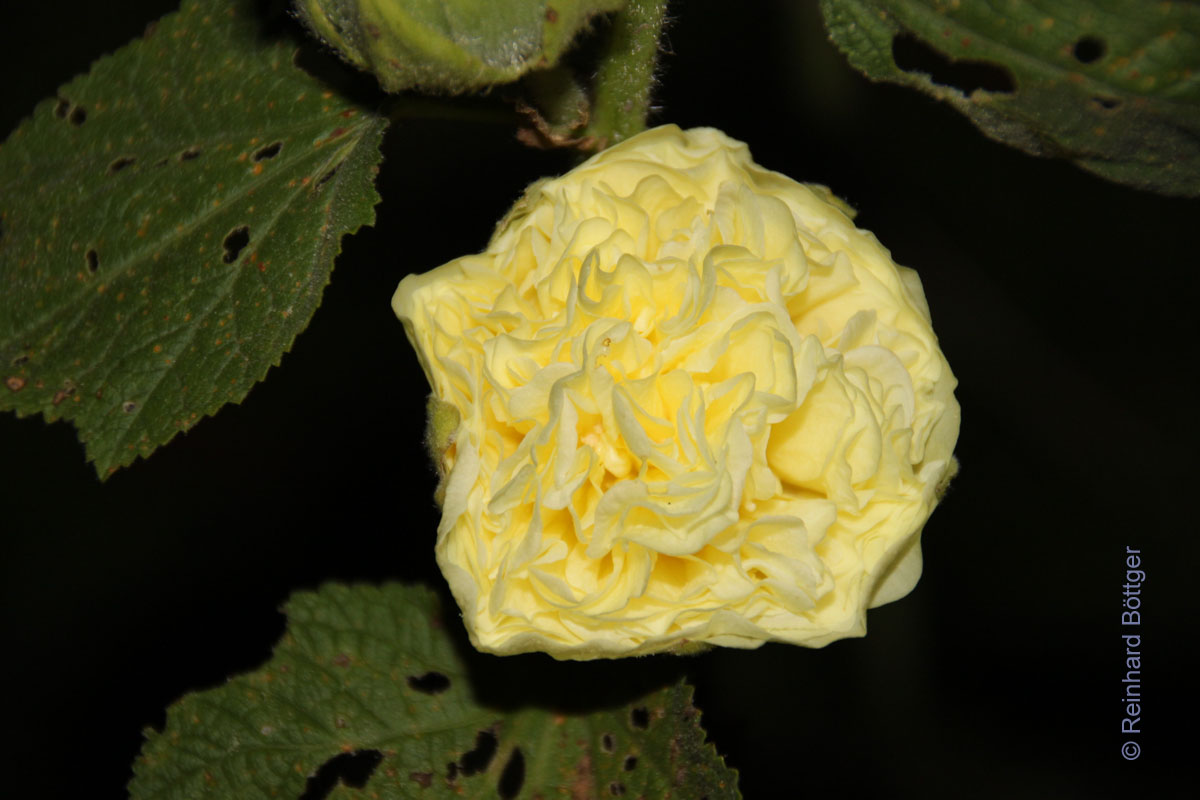 Rarität: Alcea rosea 'Plena' im schönsten GELB!
Rarity: Alcea rosea 'Plena' in the most beautiful YELLOW!
Gefülltblühende Sorten sollten NIE zwischen "einfachblühenden" gepflanzt werden - sondern immer solitär, weil deren Sämlinge sonst - wegen der "Ansteckung"- nur "einfach" blühen!
Filled-flowering varieties should NEVER be planted between "simple-flowering" - but always solitary, because their seedlings otherwise - because of the "contagion" - only "simple" bloom!

Daß zu den Malvengewächsen ebenfalls der sogenannte ``Baum- oder Strauch-Eibisch´´ Hibiscus syriacus in den Farbenspielen weiß, rosa, blau oder violett sowie die Zimmerpflanzen um Hibiscus rosa-sinensis mit ihren farbenfrohen Sorten gehören, von denen am Ende der Galerie derzeit je ein Vertreter abgebildet ist, dürfte eventuell bekannt sein.
Folgende wie auch diese Aufnahmen entstanden im Garten einer Malven-Liebhaberin und sollen die Vielfalt - vor allem die der Farben - zeigen, ohne konkret auf die übliche "Botanik" einzugehen.
The hibiscus syriacus in the colors play white, pink, blue or violet as well as the house plants around Hibiscus rosa-sinensis with their colorful varieties, of which at the end of the gallery at the present time belongs to the mallow plants also to the mallow plants also the so-called "tree or shrub marsh" One representative each may be known.
The following as well as these recordings arose in the garden of a mallow lover and should show the variety - before all of the colors - without concretely to the usual "botany".