Mehr

oder weniger wegen meines Faibles für "GELB" begann ich mich für Margariten-Sorten - für speziell gelbe - zu interessieren und mich mit der Materie LEUCANTHEMUM bzw.

"Leucanthemum x superbum"

,

wie die Züchtungen botanisch bezeichnet werden,

intensiver zu beschäftigen.
Zunächst der Gattung "Chrysanthemum" angehörend und "Shasta Daisy" (Gänseblümchen) genannt, stellt sie eine Hybride des bekannten amerikani- schen Pflanzenzüchters Luther Burbank (07.03.1849-11.04.1926) dar, wel- cher sie 1901 nahe des 4322m hohen schneebedeckten Vulkans Mt. Shasta (Namensgeber; gleichnamiger Ort) in Nordkalifornien züchtete. Er kreuzte zuerst die europäische Wiesen-Margarite Leucanthemum vulgare mit Leuc. maximum (Pyrenäen; Spanien/Frankreich sowie als Neophyt in USA, Austra- lien und Neuseeland), was 6 Jahre dauerte und diesen "Doppelhybrid" an- schließend mit Leuc. lacustre (Portugal) zum "Leucanthemum-Triple". Immer noch nicht zufrieden mit dem Ergebnis, bestäubte der zunächst mit einer neuen Kartoffel erfolgreiche Mann diesen "Dreier" durch die "Zugabe" von Nipponanthemum nipponicum* (Japan), womit eine intergenerisches Kreuzung (eine Kreuzung aus mehreren Arten; hier dreier Kontinente) entstand.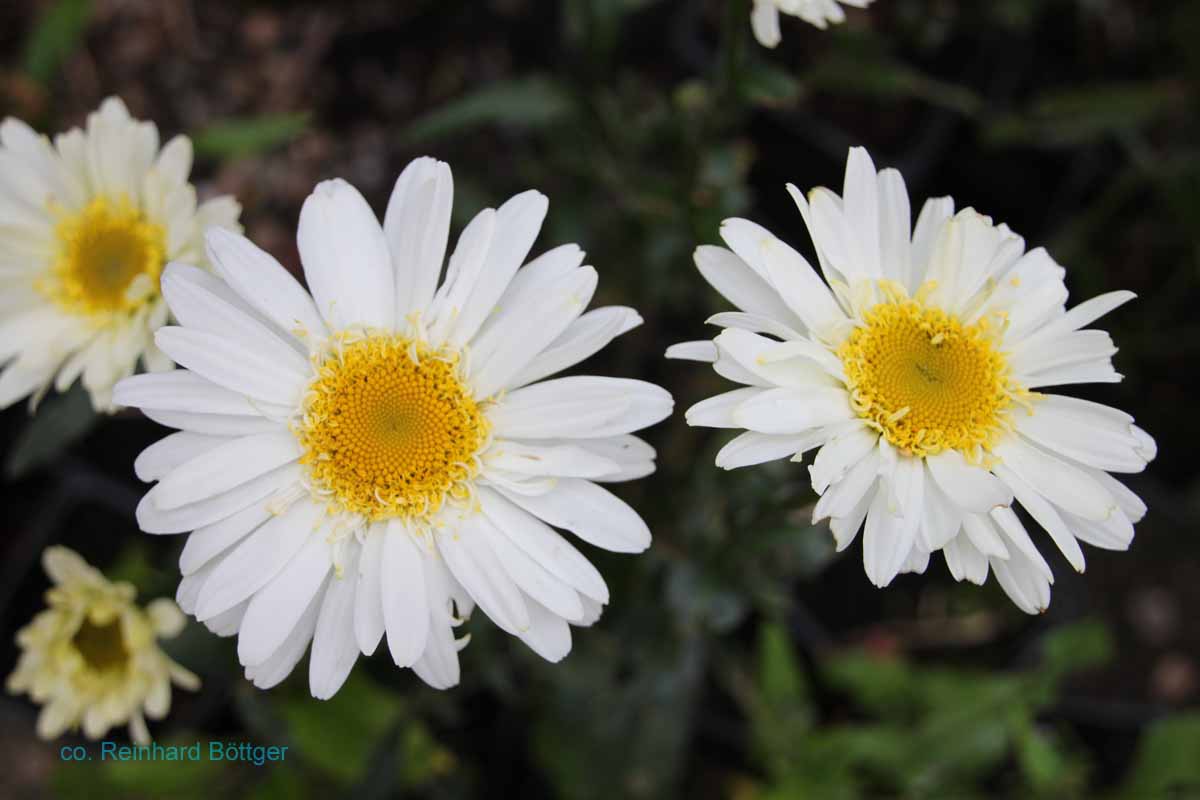 Somit verwirklichte Luther Burbank nach 17 Jahren Züchtungsarbeit den Traum nahe seiner ursprünglichen Phantasie, mit Leucanthemum x superbum eine Blume mit großen, weißen Blüten erblühen zu lassen, welche ihren Flor über einen langen Zeitraum erstreckt. Weil ihre Blütenblätter weiß wie Schnee des Berges waren, erhielt sie den Namen "Shasta Daisy".
* Nipponanthemum nipponicum ist die einzige Art jener Gattung, die zur Famile der Korbblütler (Asteraceae) gehört; auch

"Nippon- bzw. "Montauk Daisy" genannt - und an den Küstenregionen Japan wächst. Sie wurde eingebürgert am Seeufer in New York und New Jersey.
Der Gattungsname "LEUCANTHEMUM" stammt aus dem Griechischen; bestehend aus den Wörtern "Leucos" (weiß) und "anthos" (Blume) in Bezug auf ihr Aussehen.
Synonyme: Chrysanthemum nipponicum, Leucanthemum nipponicum
Ausgangspunkt für meine "Margariten-Gelbsucht" war ein Pflanzenanbieter, bei welchem ich 2013 in Adorf/V zur dortigen Herbstbörse im Botanischen Garten eine solche mit Namen 'GOLDRAUSCH' entdeckte und anschließend mit Recherchen nach weiteren gelben oder "exclusiven" weißen Sorten "hervorstechenden" Merkmalen begann. Dabei durfte ich nur allzu schnell erfahren, daß einige als "Gelb" bezeichnete Sorten schon WÄHREND des AUFBLÜHENS die Farbe des "Aufwaschwassers" annahmen...!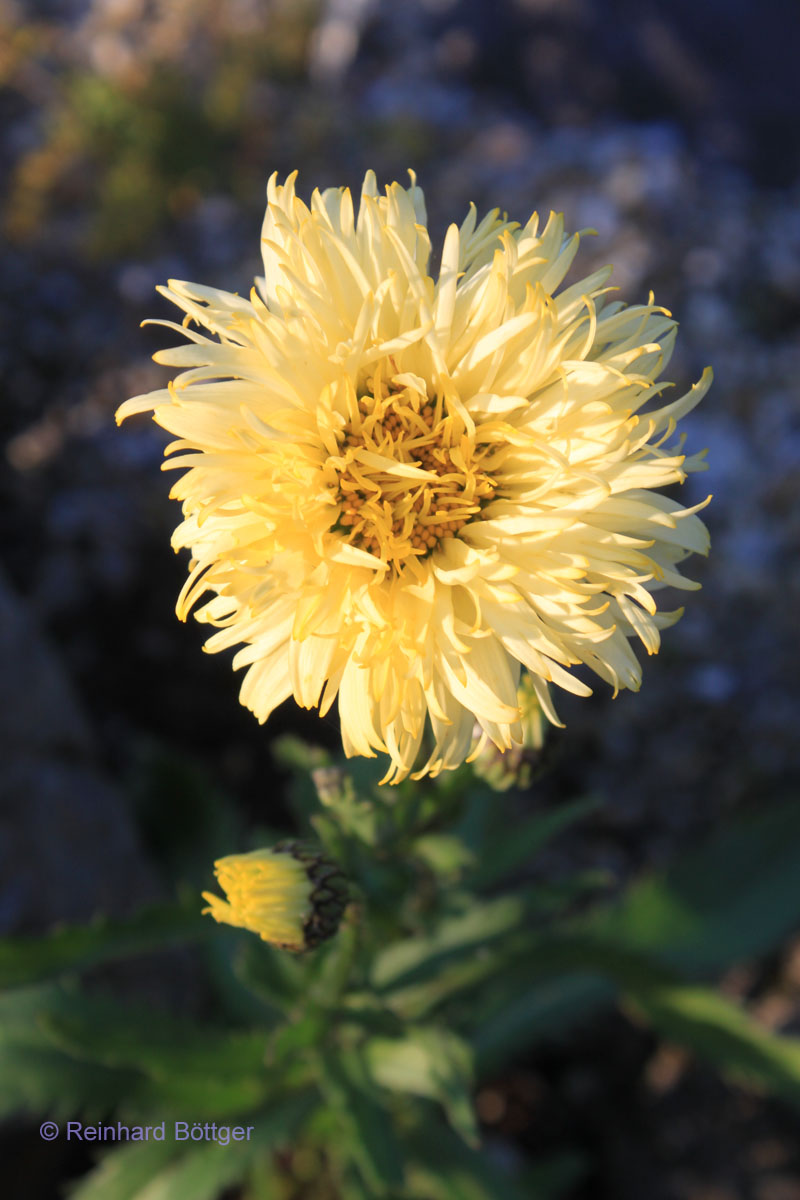 Somit stieg ich immer tiefer ein in die Materie LEUCANTHEMUM von Züchtung, Großhandels- und speziellen Pflanzenzuchtfirmen wie PlantHaven, Gardenworld, Monrovia oder TERRA NOVA Nurseries in den USA mit Vergabe der Patent- und Vertriebsrechte für den amerikanischen bzw. europäischen Markt bis zum möglichen Erwerb ca. 2 Jahre nach Bekannt- werden der Züchtung. Hierbei eignete ich mir inzwischen sehr viel "Insiderwissen" an, über welches selbst hiesige Gartencenter nicht verfügen!

Es folgten Gespräche und Mails mit den entsprechenden Züchtern, Großhandels-Gartencentern bzw. Spezial-Gärtnereinen vor allem in England incl. der Königlichen Gartenbau-Gesellschaft Royal Horticultural Society (RHS) in London/Wisley, um eben an diese heranzukommen.
Als inzwischen "Insider" kann ich neben vielen anderen schönen Sorten vor allem diejenigen Creationen der bekannten englischen Züchter Keith Lintott (gest. 2015) und Richard Read empfehlen, welche als "Realflor

©

" firmieren und daher vor ihrem Sortennamen immer "Real" tragen. Diese - oder auch andere Sorten - werden nur von sehr wenigen Gartencentern aus England

wegen hoher Transportkosten versendet; aber mir seit 2016 in bester Qualität geliefert!
Auch unter vielen Aufnahmen befindet sich ein spezieller Bildtext, welcher nach den Bildern durch Herunterscrollen sichtbar wird.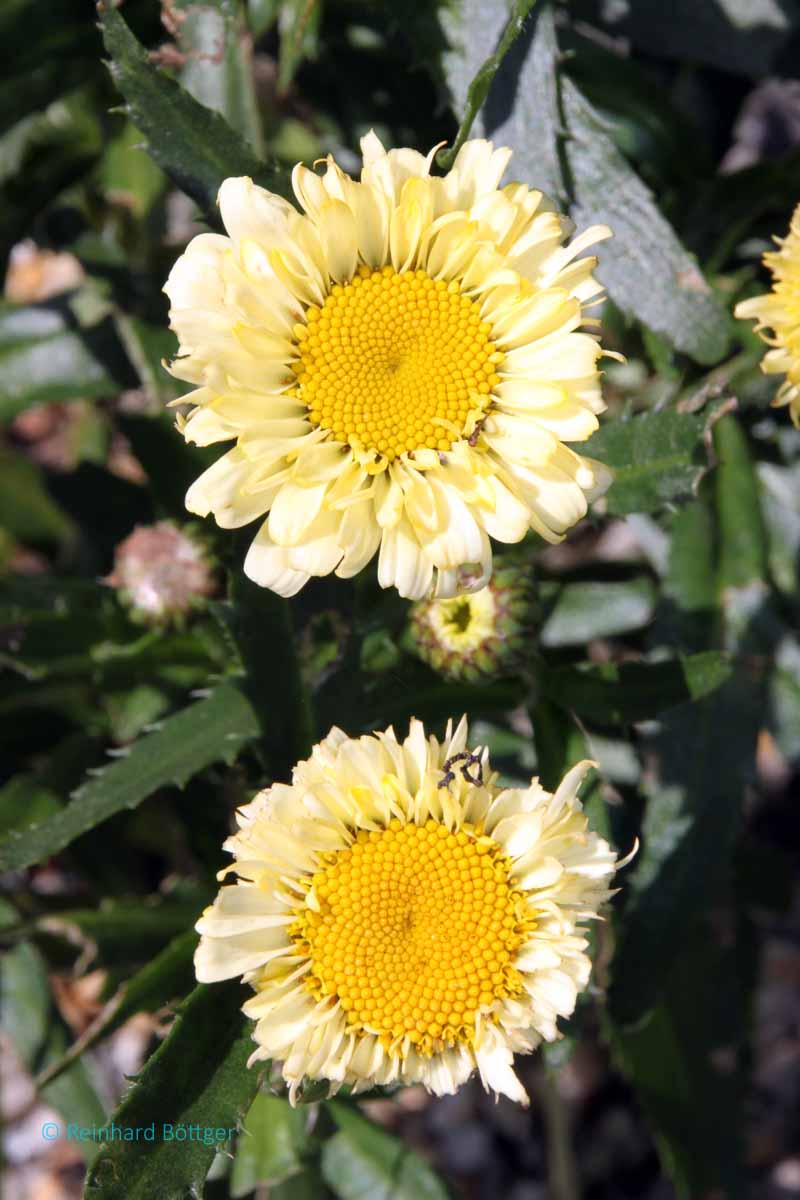 Dear friends,
More or less because of my penchant for "YELLOW" I started for Leucanthemum varieties - for especially yellow - to interest and to occupy myself intensively with the matter Leucanthemum or "Leucanthemum x superbum" as the varieties are called botanical.
The generic name "Leucanthemum" comes from the Greek; consisting of the words "Leucos" (white) and "anthos" (flower) in terms of their appearance.
Synonyms: Chrysanthemum nipponicum, Leucanthemum nipponicum.
First, the genus "Chrysanthemum" belonging, they are commonly called "Shasta Daisy". It is a hybrid of the known American breeder Luther Burbank (1849-1926), who in 1901 near the 4322m high snowy volcano Mt. Shasta (named; homonymous place) bred in Northern California. He first crossed the European Meadow Marguerite Leucanthemum vulgare with Leuc. maximum (Pyrenees; Spain France and as a neophyte in USA, Australia and New Zealand), representing 6 years of rebuilding, and this "double hybrid" then with Leuc. lacustre (Portugal) for "Leucanthemum triple". Still not satisfied with the result, the initially successful with a new potato man pollinated this "triple" by the "addition" of Nipponanthemum nipponicum* (Japan), which means "inter generic intersection" (an intersection of several types; three here Continents) originated.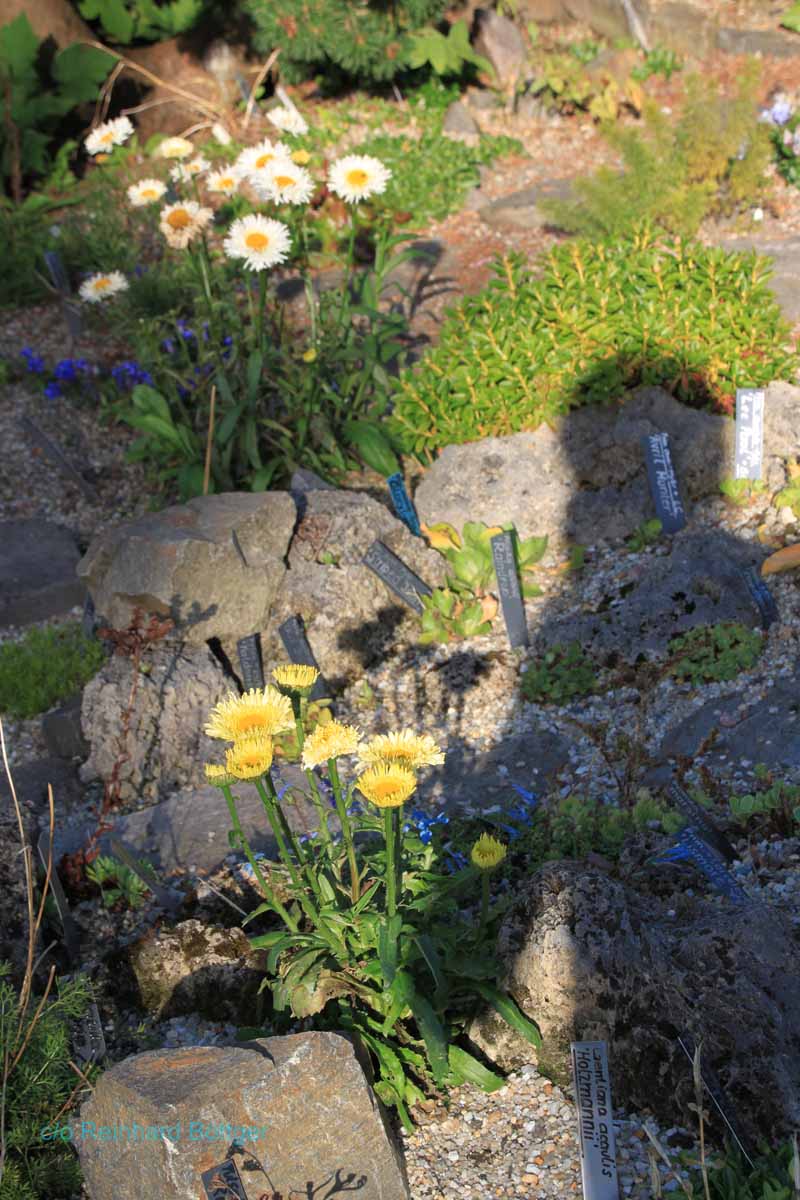 Thus, realized Luther Burbank after 17 years breeding work the dream near its original imagination, let x superbum with Leucanthemum bloom a flower with large, white flowers, which extends their pile over a long period. Because their petals white as snow of the mountain, they were given the name "Shasta Daisy".
* Nipponanthemum nipponicum is the only species that genus that belongs to the plant-family of the "Composites" (Asteraceae); also called "Nippon or "Montauk Daisy" - and grows on the coastal regions of Japan it was naturalized lakefront in New York and New Jersey -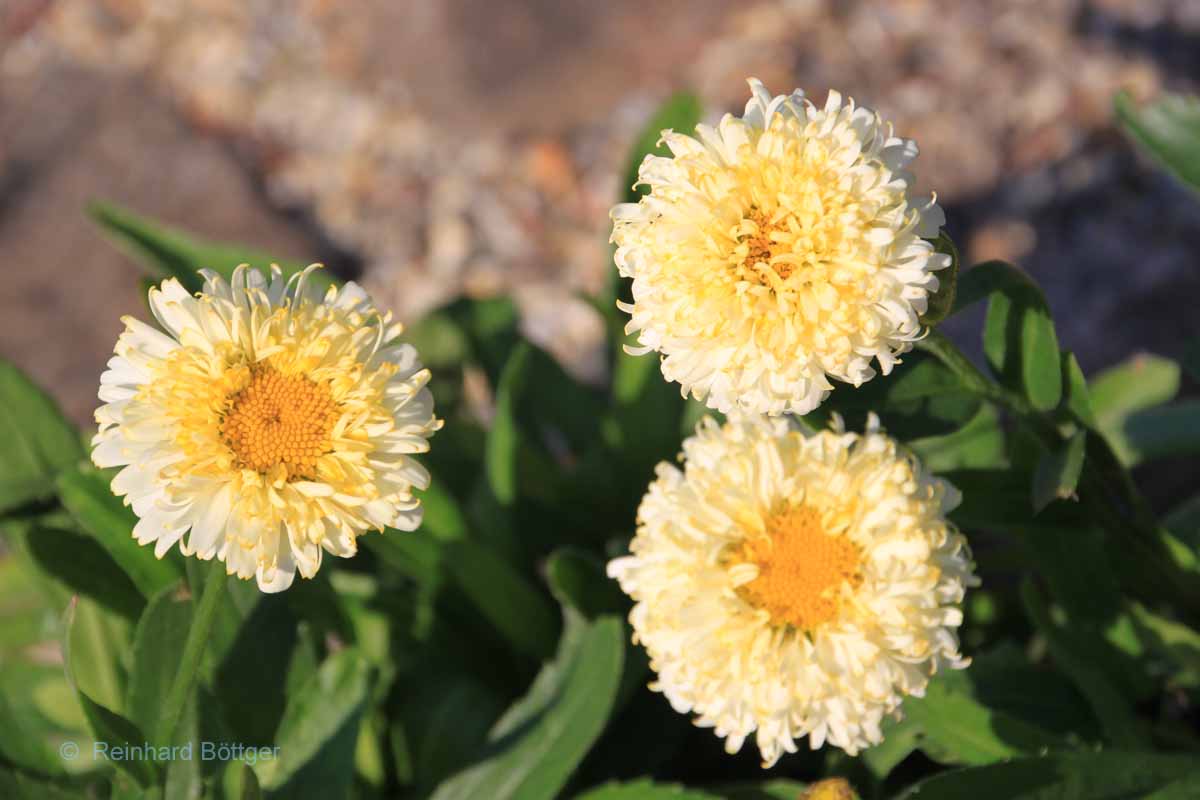 The starting point for my "Leucanthemum-jaundice" was a vegetable seller, in which I in Adorf/Vogtland (Ex East Germany) to local fall market in the Botanical Garden make such a name 'GOLD RUSH' discovered in 2013 and then began research other yellow or "exclusive" white varieties "salient" features. Here I experienced all too quickly that some as "Yellow" Marked varieties already DURING the flourishing of the color "Creamy White" (Wash Water!) assumptions ... !
So I got in deeper and deeper into matter Leucanthemum of breeding, wholesale and special plant breeding companies like PlantHaven, Gardenworld, Monrovia or TERRA NOVA Nurseries in the US with the award of the patent and marketing rights for the American and European market to the possible purchase of about 2 years after "Become-Known" breeding. Here I acquired now much "insider knowledge", do not have that even local garden center!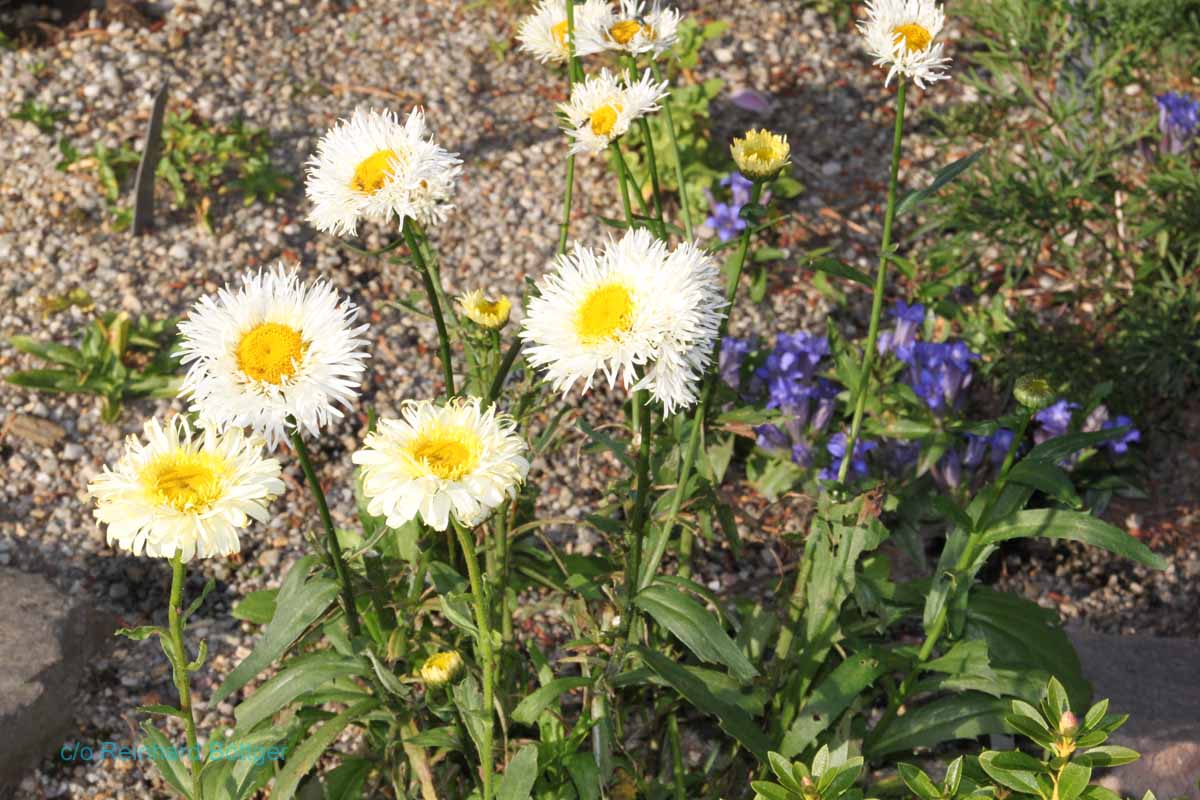 Afterwards there were contacts and emails with the corresponding breeders, wholesale garden centers or specialty Gardener especially in England incl. The Royal Horticultural Society Royal Horticultural Society (RHS) in London/Wisley to just get to this.
As now "Insider" I can among many other beautiful varieties especially those creations of well-known English breeder Keith Lintott (died in fall 2015). And Richard Read recommend which - shipped by very few garden centers from England because of high transport costs and me since 2016 best quality come - operate Realflor© and before their variety names always as wearing "Real".
Even among many photos there is a special screen text that is visible after the images by scrolling down. Come on and have fun!
Reinhard Böttger; Stollberg, 08/12/2016